Happy Friday yall! So my good friend wanted tips on how to do a basic look since she doesn't wear makeup often.(Side note: I've seen her with makeup on and she is freakin GORGEOUS. But she's beautiful with or without makeup :)
So here's my take on a simple easy everyday look.
In my opinion, for basic natural looks, stick to Matte colors, colors with no shine or frost to them. Also colors close to your skin tone so it looks natural. The goal is to still look natural but just enhancing your beauty and features.
I used a total of 3 eyeshadow colors. All from MAC.
I forget this name but its a pale Orange color which I used on my bottom lid.
MAC's Texture which I used on my full crease.(The middle part of your eyelid)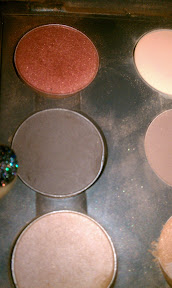 MAC's Night Maneuvers from their Style Warrior collection (in my corner crease)
I also used MACs Painterly Paint Pot as an eyeshadow base.
Here's how it looked after I applied the colors.
I used dark brown eyeliner at the top and I lined my bottom with the dark brown. Again, dark brown on my skin tone is more natural. Using black eyeliner would have given my eyes a more dramatic look.
Then you add your mascara, I used Maybelline Colossal Volum' Express, and lipgloss, I used Elf's Goddess, and you're done!!
I hope this helps and I hope you all love it!! Any questions let me know. This has been beauty sweet approved!! Xoxo
For Ciara :)