So its almost Christmas time and I've been shopping for everyone. Sooooo...I decided to get myself a lil sumthin sumthin!
I got one of Makeup Forever's Rock Forever gift sets. It comes with 2 of their star powders and 2 of their Aqua Eyes Eyeliner.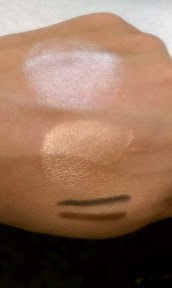 I love MUFE's star powder because its so lightweight with subtle shimmer to it. It's heavily pigmented too. Not to mention the eyeliner, it goes on super smooth and does not run!
Oh I almost forgot, I got some MUFE glitter.
Their glitter is the bomb!!! It's not clumpy glitter. It's nice and smooth and spreads easily!
I'm going to do a tutorial using these products on my YouTube channel, BeautySoSweet08. So stay tuned!!!
If you want to add some glitter and shine this season, these colors are great! This has been beauty sweet approved! Xoxo