Today is National World AIDS Day. For those living with this illness, and for those not, today is the day where we can all show our support. MAC cosmetics has a great way to do this!!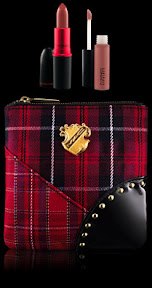 This beautiful VIVA Glam kit with the Tartan Tale Design and MAC's Crest is a beautiful way to show your love and support to those living with HIV/AIDS. The set is $36 and you get the VIVA Glam V lipstick and lip gloss!!
And check this out, All proceeds go to the MAC AIDS Fund to continue the support and research to find a view for people living with this illness!! Isn't that great!!!
There are tons of ways we can show our support, not only today but everyday. And most of us, including me, don't do enough to show support. So for the makeup lovers such as myself, we can purchase this kit.
We may not know anyone directly who lives with this illness. But this doesn't mean we don't have to do our part to help raise awareness so that this disease stops spreading and to continue the search for a cure because if it were us, we would want people to support us.
Visit worldaidsday.org to find out more information on how you can help, donate, volunteer, etc. And if you're not interested in this VIVA Glam kit, this website has other things you can purchase which will also go to research and ways to raise awareness. So let's do our part any way we can!! God bless and one day there will be a cure!!!